Customer Service Intranet
Customer Service Intranet
In the Spring of 2002, E*TRADE began migrating their existing middle- and back-office systems to a new web-based platform.
This platform was to become an integrated suite of Customer Service functionality, incorporating an existing intranet, several third-party software applications, new vendors and a collection of proprietary tools.
The first step was to establish a flexible, scalable site structure.
(image intentionally blurred)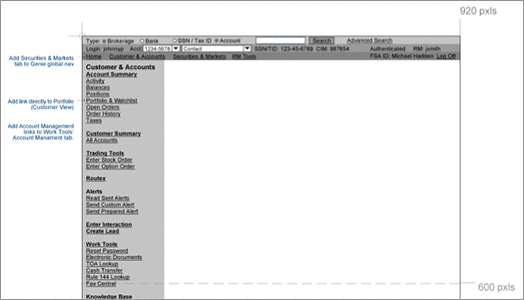 I was the sole designer assigned to this project, responsible not only for structure and functionality, but also look & feel.
I worked with stakeholders from different business groups, helping them to write their requirements and conceptualize a solution.
Working closely with tech leads and project managers, I provided specification documents for a half-dozen major efforts, and almost as many spin-off projects.
I created wireframes for the 200-300 pages to built.
(image intentionally blurred)
My wireframes guided the front-end developers, aided the integration of the back-end systems, and were the primary reference for QA testing.
The new platform provides better tools for our call centers, better support for our customers, and substantial savings for the company.
The new design provides all available customer information in a single view.
(image intentionally blurred)